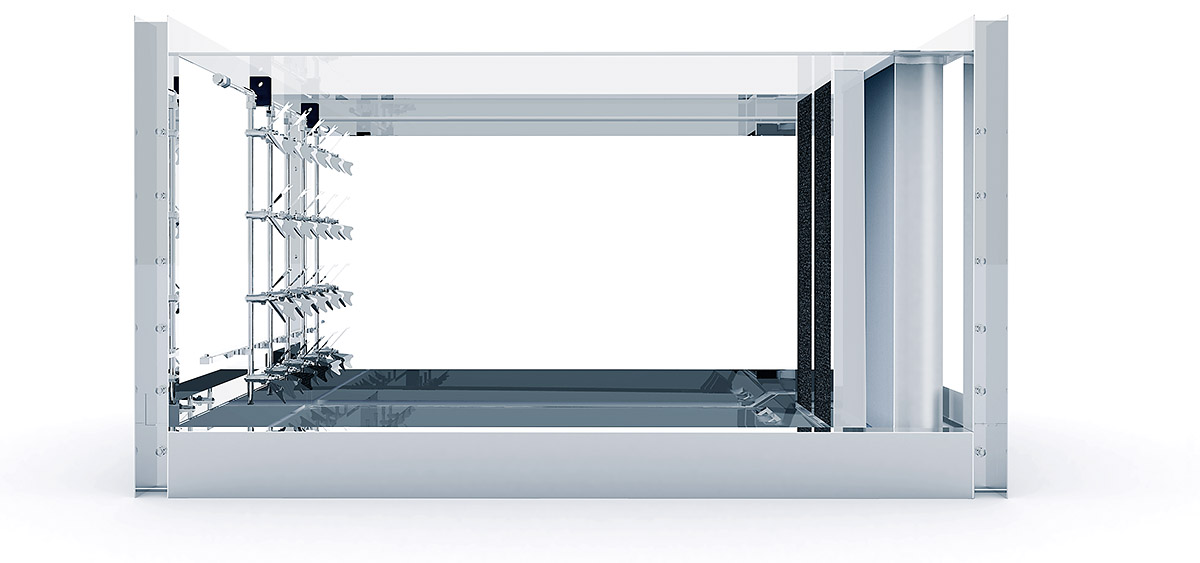 Certified Hygienic
Type approval test of compliance with the hygiene requirements of VDI 6022 Sheet 1 and DIN 1946 Part 4.

Certified to the regulations of both TÜV Nord and DMT.

Meets the hygiene requirements for the design of VDI 3803, Sheet 1.

The drainage pan is completely emptied and dried. No need to charge the humidifier with water.
High Water Quality - High Air Quality
The quality of the humidified air is largely dependent on that of the water. Using a permeate ensures that the CERTO operates hygienically and with minimal maintenance.
Free of Chemicals
The CERTO requires no silver ions or other chemical additives to the water. Nor is there any need for biocides, hydrogen peroxide or any other harmful substances.
Individual Dimensions
As standard, the width and height of the CERTO are those specified by the customer - to millimetre accuracy. This makes it easy to match the unit to the dimensions required for connection on site.
Custom Versions
The CERTO can be supplied with or without housing as required.
Long-Term Corrosion Resistance
Stainless steel construction and does not harbour microbiological colonies.
High Air Speeds
No loss of performance; can be used with speeds from 1 to 3.5 m/s.
Low Energy Consumption
Power consumption averages only about four watts per litre of water.
Low Pressure Loss
No whole-area turbulator is used, even where only few nozzles are used. This results in minimal loss of pressure.
Aerosol Free
Two-stage precipitation eliminates the need for aerosols. High level of evaporation and minimal waste water.
Superb Controllability
An infinitely variable output regulation lets you maintain accurate humidity. Additional levels of graduation available through control range extensions.
User-friendly
Outstanding control available during operation thanks to sight glass with blackout feature, interior 24-volt lighting system and inspection door.
Latest Design Software
Klingenburg's dedicated software is available as a standalone version or as DLL modules to integrate into your in-house software.
Optional Rinsing with Compressed Air
This option ensures that the pipework is completely emptied.
Supplied as Specified by Customer
We can supply the CERTO either as a fully assembled unit or in a dismantled form suitable for transporting.
100% Saturation
Saturation can be assured at all operating points (depending on design).
Comprehensive Service Network
A globally active service team. Installation, commissioning and maintenance costs are minimised thanks to our extensive network of service partners.