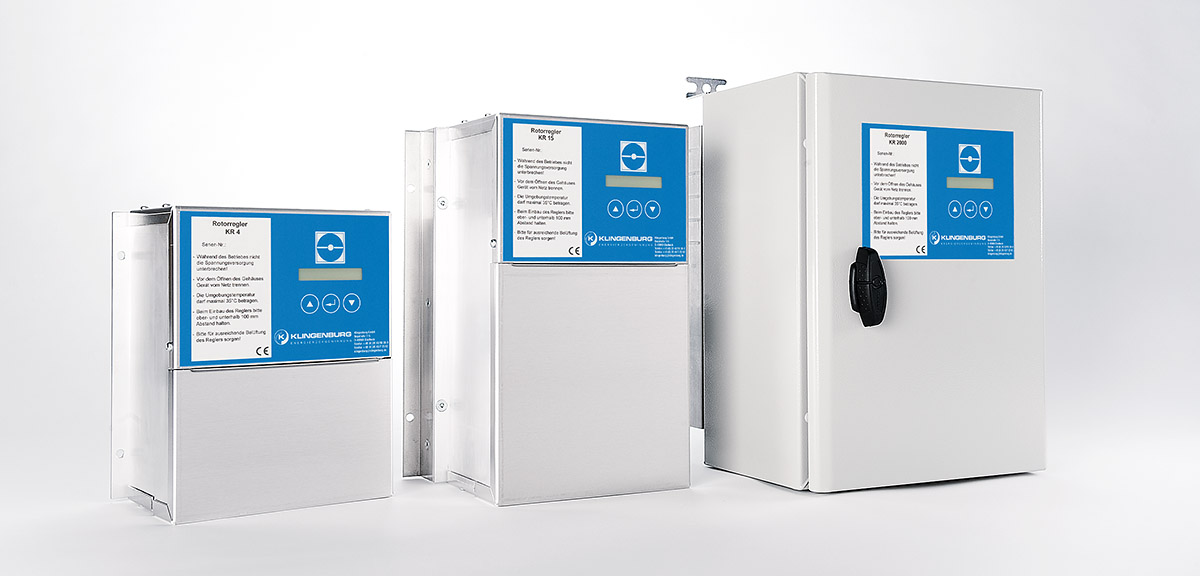 Klingenburg rotor controllers give you infinitely variable control over your rotary heat exchangers. They are always cutting-edge, easy to operate and can be used anywhere in the world. All known regulations have been taken into account in their manufacture.
Easy Operation
The controllers are operated using just three buttons. An illuminated, two-line display shows the outcomes and queries.

Once wired in, the controller is ready for operation as soon as it is switched on. Faults are shown on the display. We check every single controller before it is dispatched.
Latest Processor Technology
We supply three different controllers, to suit the required output and rotor size. They have the designations KR2, KR4 and KR7.

Each Klingenburg controller features the latest processor technology. They are CE-approved as a matter of course and thus meet the fundamental EU health and safety requirements.
Compliant with Standards and Individually Tested
The controller housings meet the IP 54 protection standards (protection against splashes, dust and contact with hazardous parts in the controller).

The output is short circuit-protected. Each of the controllers is tested to the following European standards: EN 55011, EN 61000-3, EN 61000-4-2, EN 61000-4-3 (Burst), EN 61000-4-4 (Surge), EN 61800-3. We check every single controller before it is dispatched.
Advantages of Klingenburg Rotor Controllers
CE conformity
Latest processor technology
Menu-driven programming with two-line, illuminated colour LCD plain text display
Status messages
Detailed error messages
Three-button operation
Start-up and shutdown processes adjustable via ramps
Thermal contact monitoring of drive motor
Signal processing from external controllers
Integral software for rotor self-cleaning function
Short-circuit and earth-fault protected
Suppressed against interference
Robust aluminium housing offering IP 54 protection