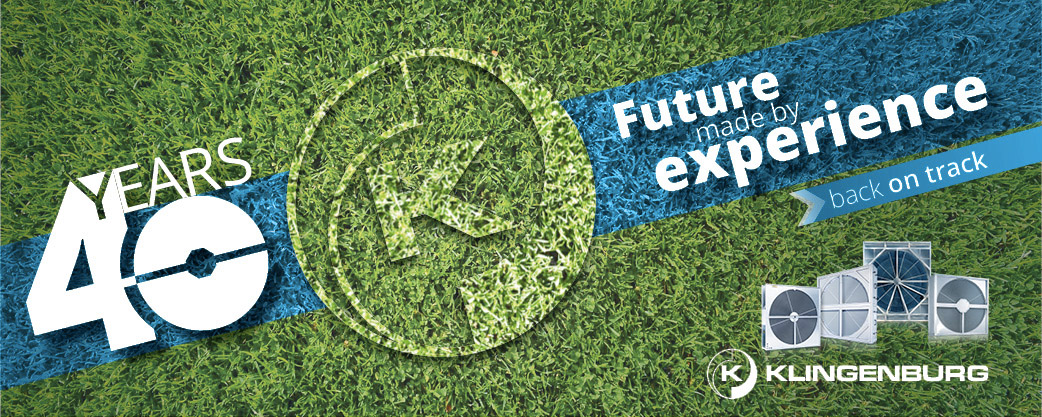 Reorganization of Klingenburg successfully completed
Essen District Court annulled insolvency procedure
Creditors have already voted in favor of the insolvency plan
Around 170 jobs are retained in Gladbeck
Gladbeck, August 2, 2019
On 31 July 2019, the Essen District Court annulled the insolvency proceedings in self-administration of the Klingenburg GmbH in Gladbeck, the market leaders in the field of heat exchangers for energy recovery, after the expiration of the usual legal deadlines. The creditors have already voted in favor of the insolvency plan. After a period of eight months Klingenburg will now be able to concentrate fully on the day-to-day business.

"We are happy that we have successfully completed this achievement", says executive director Rolf Ferdinand Oberhaus." We are very thankful for everyone, who supported us in this situation in the last few months.

Oberhaus in cooperation with lawyer Dr. Dirk Andres and his re-structuring team from AndresPartner made the decision to close the production line of both crossflow and counterflow plate heat exchangers. Klingenburg GmhH are now focusing fully on the range of rotary heat exchangers.

Other changes included adjustments in the area of personnel structure. After intensive negotiations with the works council on a social plan and reconciliation of interests, employees were offered the alternative - depending on length of service for up to ten months – to switch to a transfer company which prepares them with different training for the labor market. Klingenburg secures around 170 jobs in Gladbeck as part of its self-administration.

The repeal of the case now shows once again that self-administration is an effective tool for restructuring and restructuring companies, "says restructuring expert Andres, who has accompanied Klingenburg with his team over the past eight months. The Düsseldorf lawyer Horst Piepenburg was appointed by the district court meal as trustee, in order to supervise the management in the self-administration procedure and to protect the creditor interests. The business continued to run steadily and unrestricted throughout the self-administration
Background
Due to a tense competitive market situation, rising material prices as well as higher maintenance and servicing costs, the business of Klingenburg GmbH was burdened by losses. Since the previous restructuring course did not achieve the expected results, the company started the necessary reorganization in the way of a self-administration procedure. In November 2018 Klingenburg submitted the corresponding application to the responsible district court in Essen. As expected the court opened the self-administration insolvency proceedings on February 1 2019.

Klingenburg GmbH took advantage of the legal options (ESUG) that have been in force since March 1, 2012 to deliberately develop and implement the necessary measures for restructuring and reorganization on a short-term basis. As a result of the present court order, the management of the company remains in the hands of Rolf Oberhaus during the self-administration procedure.
Additional information
Klingenburg is a medium-sized family business founded in 1979 by Hans Klingenburg. Today the company is owned in equal parts by the brothers Arndt and Kai Klingenburg and Slawomir Bielak, who advise the management. Klingenburg produces heat exchangers in Germany and Poland. Klingenburg products can be found in different places, where air is exchanged in a controlled manner – from the small apartment to the factory hall, from cruise ships to car paint systems and data centers.

Klingenburg GmbH employs about 170 people in Gladbeck.